Eu vi post about adding dark mode to his blog Jeremy Keith e parecia simples, então decidi dar uma volta.
Aqui está o diff of the work para todos verem. Foi surpreendentemente fácil (fora de erros bobos da minha parte). Havia um pequeno refator para suportar variáveis CSS e garantir que eu tivesse fallback se houver um navegador que não suporte propriedades personalizadas de CSS, mas é isso. Eu fiz praticamente a mesma coisa que Jeremy.
Não havia suporte ao DevTools no Chrome que permitisse imitar o modo escuro sendo definido ( I hear it's coming ); portanto, criei uma classe CSS simples que poderia ser adicionada ao meu elemento HTML para testá-lo rapidamente (como mostrado abaixo).
@

media

 

(

prefers-color-scheme

:

 

dark

)

 {
  

html

 {
    --background-color: rgb(

36

, 

36

, 

36

);
    --text-color: 

#fefefe

;
    --block-quote-before-color: 

#333

;
    --link-color-visited: 

#7ad857

;
    --post-shadow: 

#333

;
  }

  .

post

.

moi

 

a

[

rel

=

me

]

 

img

 {
    

filter

: invert(

0.8

);
  }
}



html

.

dark

 {
  --background-color: rgb(

36

, 

36

, 

36

);
  --text-color: 

#fefefe

;
  --block-quote-before-color: 

#333

;
  --link-color: 

#1bcba2

;
  --link-color-visited: 

#7ad857

;
  --post-shadow: 

#333

;
}



html

.

dark

 .

post

.

moi

 

a

[

rel

=

me

]

 

img

 {
  

filter

: invert(

0.8

);
}

Não no modo escuro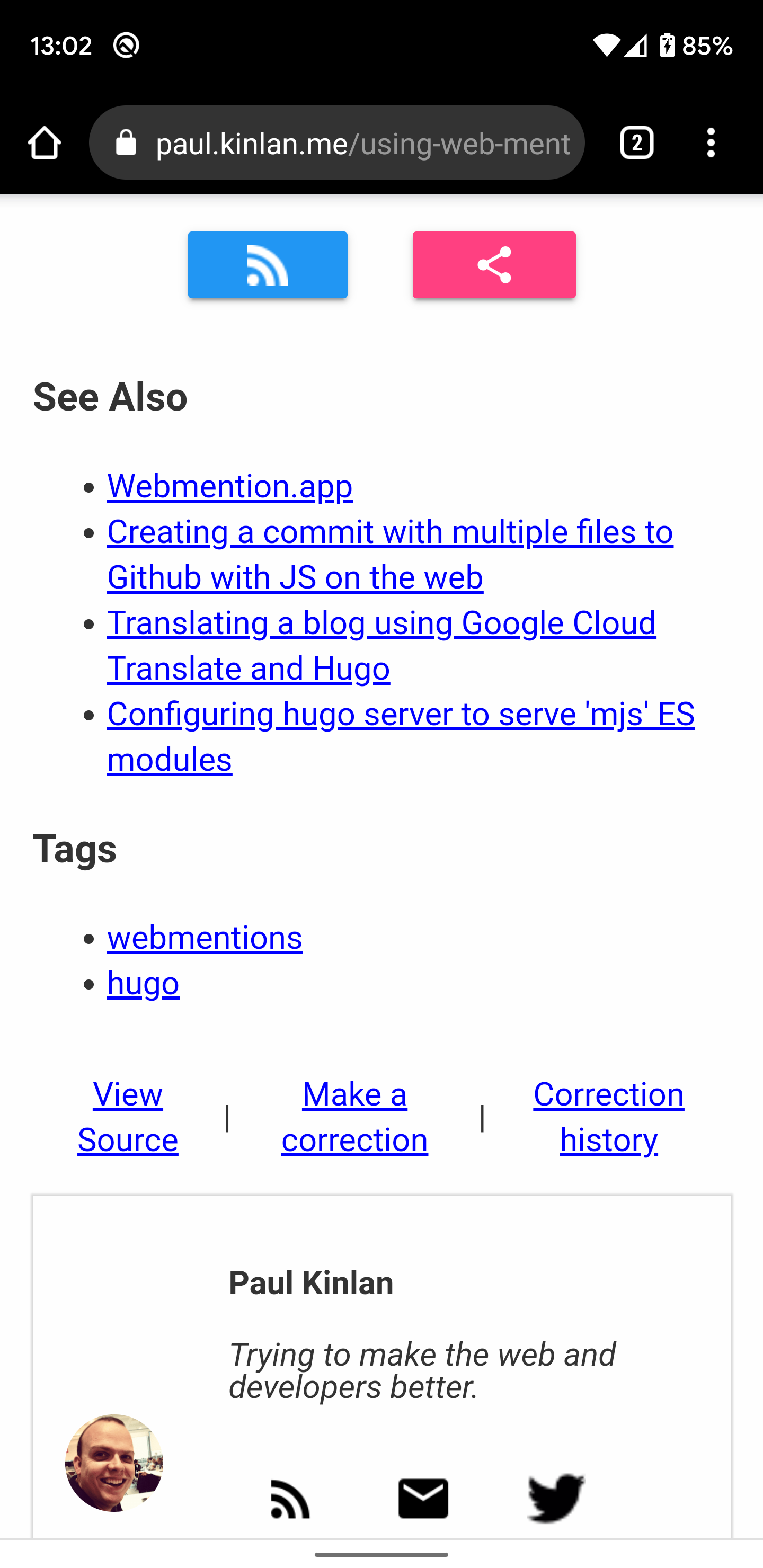 modo escuro