J'ai vu les post about adding dark mode to his blog Jeremy Keith et cela semblait simple, alors j'ai décidé de le faire tourner.
Voici le diff of the work la diff of the work de tous. C'était étonnamment facile (en dehors des erreurs stupides de ma part). Il y avait un petit refactor pour prendre en charge les variables CSS et assurer ma solution de repli s'il y avait un navigateur qui ne prend pas en charge les propriétés personnalisées CSS, mais c'est à peu près tout. J'ai fait à peu près la même chose que Jeremy.
Chrome ne prenant pas en charge les outils DevTools qui me permettaient d'émuler le mode sombre ( I hear it's coming ), j'ai donc créé une classe CSS simple que je pouvais ajouter à mon élément HTML pour le tester rapidement (voir ci-dessous).
@

media

 

(

prefers-color-scheme

:

 

dark

)

 {
  

html

 {
    --background-color: rgb(

36

, 

36

, 

36

);
    --text-color: 

#fefefe

;
    --block-quote-before-color: 

#333

;
    --link-color-visited: 

#7ad857

;
    --post-shadow: 

#333

;
  }

  .

post

.

moi

 

a

[

rel

=

me

]

 

img

 {
    

filter

: invert(

0.8

);
  }
}



html

.

dark

 {
  --background-color: rgb(

36

, 

36

, 

36

);
  --text-color: 

#fefefe

;
  --block-quote-before-color: 

#333

;
  --link-color: 

#1bcba2

;
  --link-color-visited: 

#7ad857

;
  --post-shadow: 

#333

;
}



html

.

dark

 .

post

.

moi

 

a

[

rel

=

me

]

 

img

 {
  

filter

: invert(

0.8

);
}

pas sombre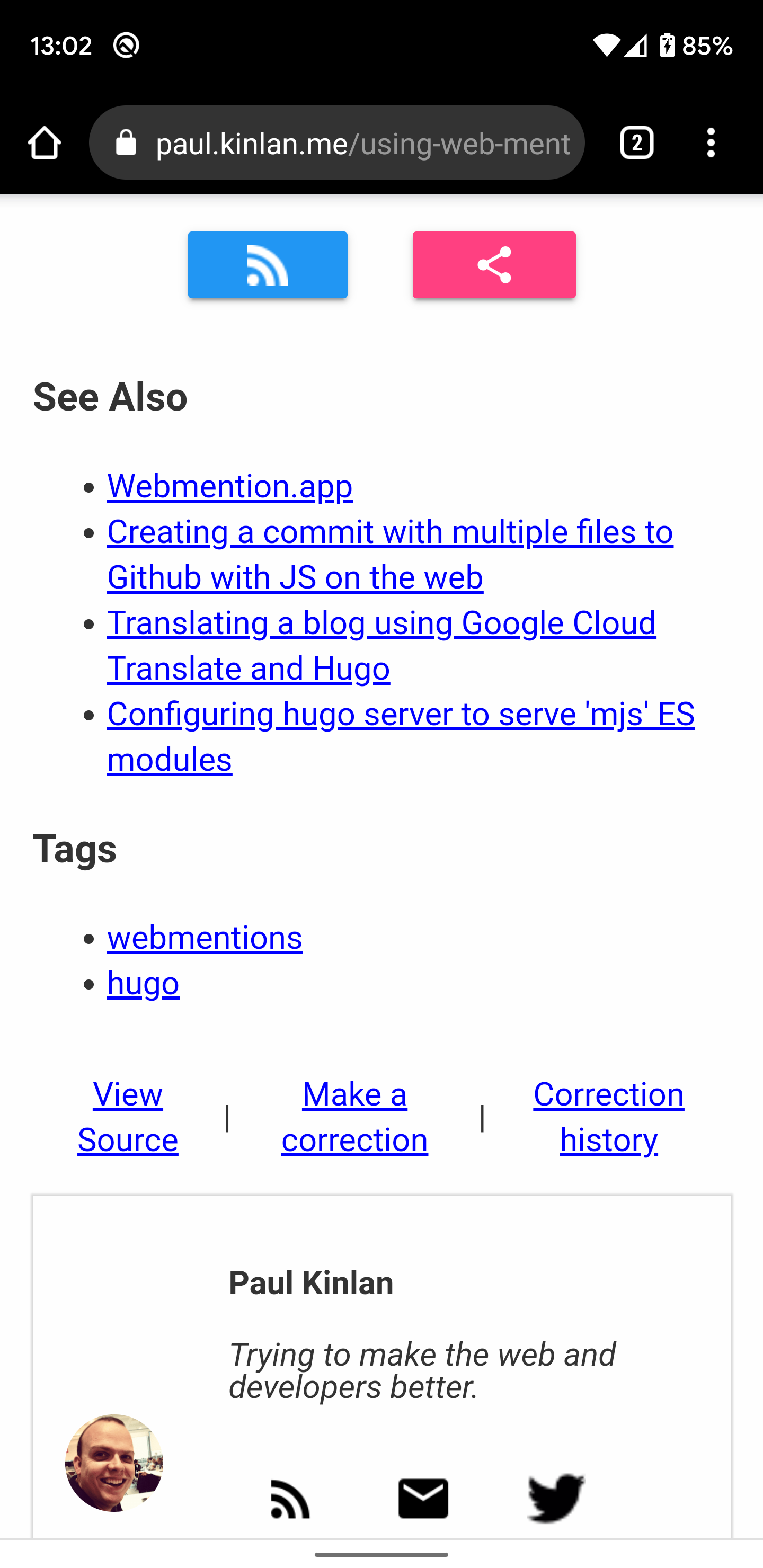 mode sombre